Food Choppers and Mezzalunas

Sure, get out your serrated paring knife or your nine-inch Chef's knife to cut up all those veggies, but there is an easier way, and great tools to use if you want to have your "assistant" help out with the grunt work and DO NOT want their grimly fingerprints on your Wusthof or Henckles knives. No, instead, have handy one of these inexpensive food choppers - just cut the veggies into two or three pieces, insert, and then chop, chop, chop.

Of course, for the real expert chef, there is nothing like a well-built and insanely sharp Mezzaluna to chop those veggies.
Lay them out on your cutting board, grab hold to the handle(s) and chop away!

Don't forget to have a chopped that can handle herbs as well for those delicate species such as thyme, basil or sage,
and if you're cooking with nuts, whether they're cashews, almonds, walnuts or pecans,
get them chopped up into itsy, bitsey pieces with the right chopper that panhandle that job..

Rosle Onion and Vegetable Chopper
From Rosle, this Onion and Vegetable Chopper combines quality and stylish design, superior workmanship, and long-lasting, durable materials, for the perfect cook's tool, made to do the job, year after year. Features:
Perfect for onions, herbs, chocolate, nuts and more
Automatic rotating blade assembly provides quick and efficient cutting results
Ergonomic press knob ensures convenient and effortless work
5-year warranty
$49.95
Kuhn Rikon Easy Cut Manual Chopper
The easy-to-use Manual Chopper from Kuhn Rikon will slice, grate, chop or otherwise reconfigure your veggies, fruit, even cheese, into the form you need for cooking, serving, and joying, with a minimum effort or muss. Features include:
Energy-efficient design uses a pulling mechanism rather than electricity to process food, simply choose a blade to suit your recipe, and then pull on the handle to use
Feed-tube divider keeps even smaller pieces of food in an upright position, ensuring accurate cuts
Blades change out easily, and are held in place by a simple screw mechanism
Stainless steel blades stay sharp for years of use
When feed tube is not inserted, locking safety feature prevents blades from spinning
When feed tube is not inserted, locking safety feature prevents blades from spinning
$80.00
Vidalia Chop Wizard
Use the Vidalia Chop Wizard to chop vegetables, fruit, cheese, and more, in half the time:
Chops and dices veggies with one swift motion
Includes 2 super sharp insert discs for perfect chopping and dicing
Catch container doubles as a measuring cup
dishwasher safe
$25.95
$19.49
Rosle Multi-Cutter
The Rosle Multi-Cutter is a true multi-purpose cook's tool and will become indispensable in any home kitchen. Features include:
Patented cutting mechanism with two moving blades for chopping herbs, fruit and vegetables
Also suitable for stirring and mixing sauces, soups and dressings
With the included basket inset use also for spin-drying herbs
Ergonomic handle
Anti-slip receptacle base
Storage lid and cleaning spatula also included
5-year warranty
$74.95
OXO Good Grips Vegetable Chopper with Easy-Pour Opening
Chopping fruits and vegetables is quick and easy with OXO's Good Grips Vegetable Chopper that features a recessed cutting area to keep food in place. Additional features include:
Easily chops in one easy motion
Lid provides leverage to ensure efficient chopping
Chopped food collects in the 2.5-cup capacity body
Removable grid helps clean between teeth of chopper
Convenient opening for easy pouring without lifting lid or disassembling
Non-slip base provides stability
Dishwasher safe
$19.95
Ronco Veg-O-Matic Deluxe
The Veg-O-Matic Deluxe is a new take on Ronco's kitchen classic Veg-O-Matic. This redesigned and upgraded deluxe version features a no-mess catch-all receptacle, and more:
Keeps your fingers and knuckles far, far away from any nicks and cuts
Makes all of your slicing, dicing and coring really easy and simple, just place food on blades and press straight down
Five interchangeable cutting blades cut foods with one simple stroke
Includes 2 slice cutting blades, 1 wedge cutting blade, 1 cube cutting blade and 1 dice cutting blade with two grips
Unique cleaning tool easily gets out food stuck in the nooks and crannies
Dishwasher safe
$34.99
$24.99
Progressive PL8 Professional Chopper
Get square, even pieces every chop, whether it's onions, potatoes, garlic or other veggies or fruit, with Progressive's PL8 Professional Chopper. Features:
Simply place food on the chopping or mincing grid and then when you close the lid the built-in protrusions force food through the sharp cutting grid for perfect chops
Chopped pieces fall into the removable catch bin
Includes stainless steel grids in three sizes: ⅛" mince, ¼" dice and ½" chop
Integrated cleaning grid removes food scraps from lid and blades
Stainless steel legs provide a stable platform and nonslip grip
BPA free
Dishwasher safe
$50.00
Trudeau Toss & Chop Salad Shears
Trudeau's innovative Toss & Chop Salad Shears introduced a new technique to preparing veggies, especially when it comes to getting that first-course salad ready and on the table in a hurry. Features include:
Chop ingredients directly into the bowl
Ergonomic, soft-grip handles are designed for comfort
Cutting blades are made of micro-serrated stainless steel that never requires sharpening
Safety lock ensures secure and compact storage
Dishwasher safe
$24.95
Weston Cabbage Shredder
The easy and safe way to make loads of homemade coleslaw! Chops cabbage in a breeze for slaw or sauerkraut:
3 super sharp, stainless steel iron blades
Shred cabbage or other leafy vegetables into approximately 1mm strips
Disassembles for easy clean-up
Sturdy hard wood frame
Limited one-year manufacturer's warranty
Compare at $54.99, Our Price Only $42.99, and FREE SHIPPING!
A Pair You Cannot Pass Up!
Wusthof Double-Handle Mezzaluna
For centuries, Wusthof cutlery has been a symbol of form, function, and uncompromising quality, and a shining example of their workmanship is found in the Double-Handle Mezzaluna. Features:
Double-handled for rocking back and forth to quickly mince herbs, spices, nuts and more
Synthetic handles are compression riveted to the full tang of the blade
Blade is laser cut from high-carbon German X50CrMoV15 no-stain steel
9 inch
Limited lifetime warranty against manufacturer defects
$69.95
John Boos & Co Maple Edge-Grain
Mezzaluna Cutting Board
Manufactured from the finest northern-white species of hard rock maple and crafted into a perfect shape for a mezzaluna by the premier manufacturer or cutting boards and butcher blocks in the USA, the John Boos Mezzaluna Cutting Board is the perfect accompaniment to the
Wusthof Double-Handle Mezzaluna
. Features include:
Inset groove grip around the board for easy lifting
Bowl shape on one side for chopping herbs with a mezzaluna, flat on the reverse side for other cutting tasks
Maple wood is naturally anti-bacterial
Boos cream finish creates a protective layer that prevents food and moisture from damaging the wood board
Made in the USA
$98.95
Kuhn Rikon Mezzaluna
Perfect for chopping, dicing and mincing veggies, herbs and spices, the Kuhn Rikon Messaluna features an ultra-sharp Japanese stainless steel blade. Additional features include:
Ergonomic Handle
Curved handle and blade make it easy to mince or chop without lifting the knife from the cutting board
For Right and Left Hand Use
Serration is perfect for making crinkle cuts in vegetables
Safety sheath included
$27.54
$18.99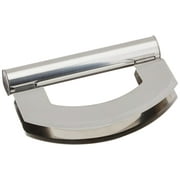 Fox Run Stainless Steel
Mezzaluna
The large, easy-to-grip handle ensures stability when chopping up your veggies with the Fox Run Stainless Steel Mezzaluna. Features:
Sharp, double stainless steel blades
Generous space in between blades prevents food from catching
Fox Run design offers superior control
7 inches
$24.15
$17.89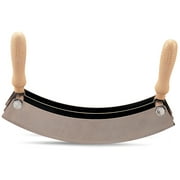 JB Prince Mezzaluna
The name JP Prince is synomous with modern, high-tech cooking and baking tools for the home cook and professional alike. Their mezzaluna is a shinning example of their quality designs, workmanship and superior material choice. Features:
Three stain resistant steel blades leave other mezzalunas in the dust when it comes to easy, uniform chopping
Composite plastic handles.
12 inch blades for a wide area of chopping at one time
$169.80

Food and Cooking Tips,
Legal Stuff and More