Tenderizers and Marinators

Home cooks (and a lot of professional chefs as well) know that often times the cut of meat they are tasked with turning into a delightful meal needs work, and that work is either tenderizing, marinating, or both. THAT is when the right tool, the correct Tenderizer or the correct Marinator, is essential to prepping ingredients for that meal.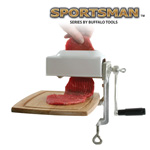 Sportsman Meat Cuber
The Sportsman Meat Cuber will tenderize and helps marinate tough cuts of meat without pounding
Turn less expensive cuts of meat into delicious meals
Crafted from durable heavy duty aluminum
Easy-to-crank handle
Clamps securely to your table or countertop
Prepares meat up to 1/2" thick
Compare at $52.28, Our Price Only $33.32
Marinade Injector Syringe
Inject large pieces of meat. poultry and fish with spices, wine, liquor and all your favorite bottled marinades.
Made from high quality stainless steel
Injector includes two 6" needle attachments - one with 12 holes allow for injecting liquid seasoning or stock deep into meat to ensure tenderness and the juiciest of flavor, and the attachment with the larger hole at the end is perfect for thicker marinades, mincing, and herbs
Large 2-oz barrel
Dishwasher safe
Lifetime warranty
Compare at $39.99, Our Price Only $19.99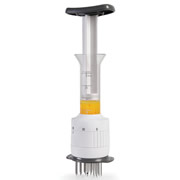 The Marinade Infusing Meat Tenderizer
What if someone invented a meat tenderizer that had a built-in plunger that releases marinade into meat via three needle-like applicators, quickly saturating the interior of food with flavor enhancing ingredients? Well, someone did - and here it is, the Marinade Infusing Meat Tenderizer!
Twenty seven stainless steel blades sever tough connective tissue, softening the meat
Holds up to 3 oz. of marinade - enough to flavor 2 lbs. of flank steak
Tenderizing blades have two depth settings for optimal penetration of thick roasts or steaks, and unlike tenderizing mallets it will not alter the meat's thickness
Disassembles for simple cleaning in the top rack of a dishwasher
$49.95
Food and Cooking Tips, Legal Stuff and More